Written by Cheryl Allebrand, Managing Consultant, CGI in the UK, Specialising in Conversational AI
With close to two decades of experience in tech and strategy, Cheryl is dedicated to finding solutions t hat work for organisations, their members and those they support.
Contact centres are often viewed as cost drivers rather than business drivers. This is understandable, when you consider that differentiation efforts in this space have often struggled to be sustainable from a cost or staffing perspective. No company sets out to fail its customers, but many businesses today are failing to serve their customers effectively due to inadequate customer services operations. This comes with real costs: negative promotion, customer churn and missed revenue opportunities.
For too long, customer operations teams have implemented digital support as a defensive gatekeeper between customers and agents, when improving customer experience and adding value should have been the goal. The problems have become so bad that regulators have had to step into the private sector to force companies to provide better customer service. It's a wake-up call to a number of industries and there is now greater recognition that standards need to be improved. However, in trying to fix the challenges, companies are making important mistakes, in terms of their approach, design and technology choices.
This article examines the future of contact centres starting with the change drivers, uncovering common mistakes and their hidden business costs, and explains how to rebuild to create new opportunities and better outcomes all round. If the question is how can contact centres improve their customer experience and ultimately their bottom line, then Conversational AI should be the answer. Cost is not a business driver: change is. For companies looking to adapt in the face of economic uncertainty, it can be tempting to focus on cost-saving measures while putting off investments that will bring growth. In some circumstances this can be a short-term necessity; however, it is ultimately competitors who make meaningful improvements for their customers and staff that will grow and thrive.
Change needs to happen now
Increasing demand on contact centres and rising cost-to-serve are impacting decisions that companies are making, with a knock-on impact on customer satisfaction. Experience of the recent pandemic has changed us as customers forever; the inability to meet in person drove us online for all forms of interaction. From medical support, rescheduling holidays, to obtaining emergency loans, contact centres have been at the centre of it all. In a time that heavily influenced consumer loyalty, slow responses, high attrition rates, call volumes and delays meant organisations faced a huge loss in brand confidence. One may think that with things now getting back to normal and people getting used to living with COVID, contact centres everywhere would be able to easily bounce back to pre-pandemic levels of service and customer satisfaction. This has not been the case.
A good example of this can be found in a report released by the Central Bank of Ireland in February 2022. It showed that 'customers of Irish banks have had to endure waits of up to two hours for telephone support with as many as 50% of one bank's customers simply giving up and ending calls before being able to speak to a human'. The Central Bank assessed call wait times, call abandonment rates and resourcing levels across the retail banks and painted a dismal picture of the level of customer care on offer. While the regulator's review did not identify the worst offenders when it came to customer care, it said it would be applying pressure on all the banks over the course of 2022.
The Spanish Government also proposed regulations that would require customer wait times be kept below three minutes or companies would face harsh financial penalties. And if you think you are in the clear because your contact centre is not keeping your customers on hold for two hours, think again. Consumer trust has been broken and their patience is wearing thin. In fact, a Microsoft study found that 26% of customers were extremely frustrated when an agent did not have an answer or ability to resolve an issue. You do not want to frustrate any customers, let alone a quarter of them. At the same time, existing staff are not being given the tools they need to turn things around. In 2021, we interviewed 1,700 business and technology executives who cited improving the customer experience as their top business priority, yet on the whole they are not succeeding at doing this in contact centres. Clearly change is needed, so let's examine the factors hampering meaningful change and the key issues that can be addressed using Conversational AI.
Solutions to transform contact centre performance
Conversational AI can bring solutions to the below challenges, and offers quantifiable results to contact centres such as better Net Promoter Scores, reduced cost per call, and opportunities to capture and contain revenue: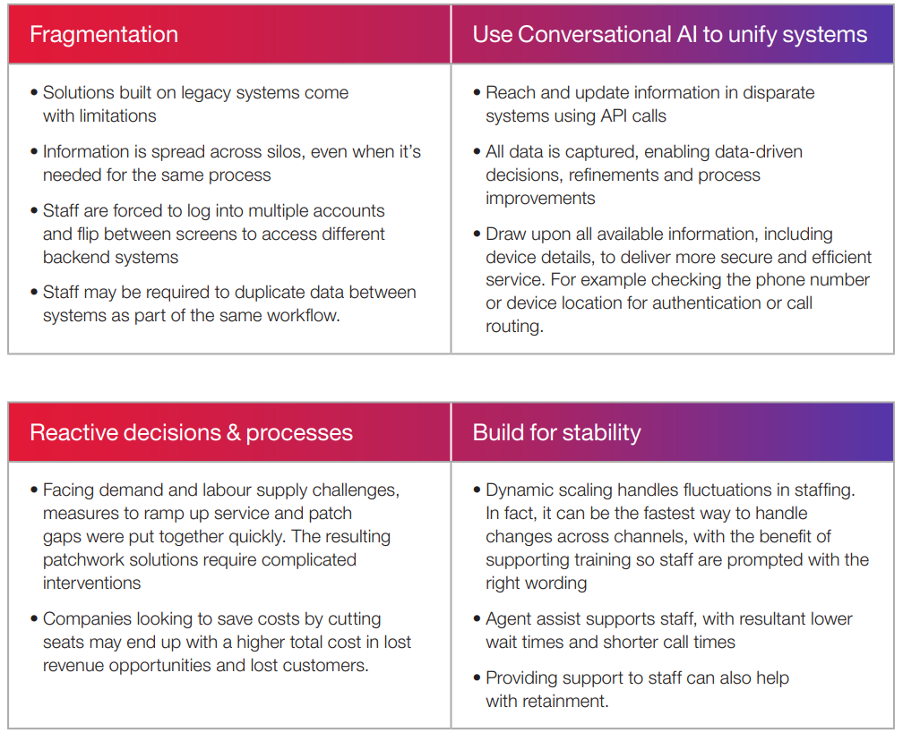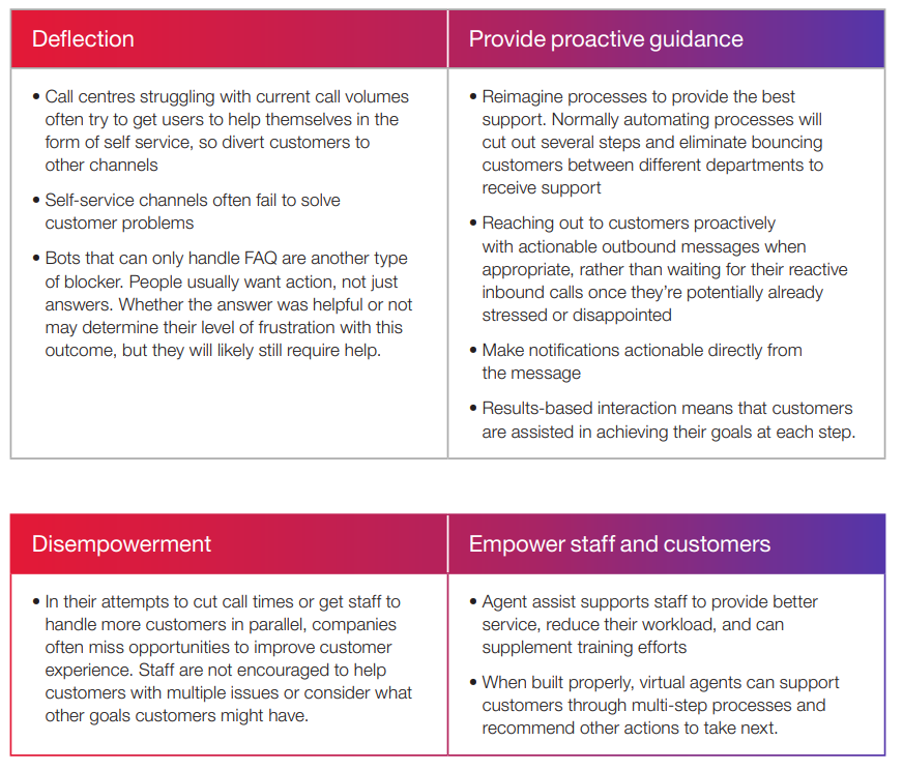 Design is Key
How you design Conversational AI is as important as the technology you select. Good technology makes good design possible; but without good design, even good technology can deliver bad bots. As with any good design process, it's about creating a loop that starts and ends with analysis: analyse, prioritise, redesign, repeat. Below are 6 key design principles in using Conversational AI in your contact centre:
Start with existing data – As with many process reengineering efforts, the best place to start is with analysis of your existing datasets. The good news is that generally, contact centres hold vast quantities of data that can help guide appropriate solutions, covering not just the number of calls you receive but also the types of queries and the regular fixes to those problems. Starting with automation and self-service of high-frequency, low-complexity tasks is a quick way to take pressure off agents while efficiently serving your customers and improving time to value. This will also buy you more time to make greater improvements.
Fundamentally redesign processes – Using Conversational AI reduces the time required of customers by, for example, automatically including known data instead of asking for it again or increasing speed of information exchange both vs. email/post or by elimination/reduction of queue time. Remember, although your business processes may have been digitalised in the last couple of years, it's likely that the processes have not been adapted to take advantage of the technology and so don't produce the expected results nor increase efficiency. Technology enables you to draw upon much more information, including device details, to deliver more secure and efficient services, i.e., checking phone numbers or device locations for authentication or call routing. The real TX (Total Experience) game-changers will generally be found in your mid-complexity range of queries: those that require information to be correlated across systems or resolved with the help of multiple groups or steps in the supply chain. Simplifying cross-system work at the process level, with automation and digital support for employees from Conversational AI, minimises employee time spent on tasks and speeds up resolution time for customers.
Prioritise and plan – Improving total experience with an intelligent automation ecosystem is possible and cost effective, but it is important to identify clear objectives and milestones to achieve it. Decide what success will look like, how you will measure it, and plan work from there. Start by focusing on resolving customer issues faster and simplifying your agents' work to design use cases for holistic omnichannel delivery that are valuable. Making it easier for agents to do their job will drive down the cost to serve. Simplify their workflows and processes, provide shortcuts and support, and minimise or automate repetitive, mindless tasks. Look for opportunities to be proactive in communication with your customers. Outbound information can head off inbound calls, and customers will be happier when they don't have to come to you because they've been kept informed along the way. Automated, actionable notifications or outbound calls by virtual agents can prevent or alleviate spikes when there are incidents.
Support staff – Creating well thought out ways for virtual agents to handle calls can mean your existing agents improve. Agent assist capabilities support staff on calls, listening in to recommend responses behind the scenes and helping to update disparate backend systems. Foremost, this helps save agent time and can help bring a consistent brand voice across channels. Importantly, it means minimal training is required to get to good fast, whether training new agents or retraining existing agents on process changes. They learn how to word new responses on the job – which can be particularly important in compliance cases. One important tip is to release new flows as agent assist first, so existing agents can in turn help train the bots.
Analyse and refine – With Conversational AI all data is captured, enabling data-driven decisions, refinements and process improvements. Continuously improve by employing analytics and monitoring to see how well your customers are being understood and what needs you're not handling. There are three main types of data to investigate: factual, sentimental and contextual. Factual data is the most common type we think of when looking at call logs – what intents are people seeking help with and were they understood. Sentiment analysis is another important data set to work with. Understanding how people are feeling provides the opportunity to adjust responses in order to better handle their requests and to make people feel understood. Finally, contextual data is underutilised to companies' detriment. Experiences are much more satisfying when relevant information is taken into account. By knowing where a customer or colleague is coming from, and what they might want to do or know based on that information, we can create much more satisfying interactions.
Choose the right technology – Technology choices matter. Historically, if you wanted to enable new digital channels, you would have had to purchase standalone channel technology, design individual process workflows per channel and separate integration pathways. However, this is no longer the case as we move into the era of conversational platforms. These platforms are capable of operating across multiple channels and modalities, with consolidated, channel-aware workflows in multiple languages, all at the same time. These platforms typically consist of a number of operational areas that allow you to build the right communication paths and channels, in the most efficient way possible. The construction and enablement layers include all the pieces that business users and developers need to collaborate and create a wide range of sophisticated, multilingual, multichannel, Conversational AI applications that automate support of the customer journey. These solutions can easily integrate with legacy systems via APIs to provide end-to-end automation and drive customer engagement. The real value provided by Conversational AI technology starts with intelligent routing and truly shines when you get to end-to-end automation solutions. The combined effects of technology selection and design are shown in the stages of chatbot maturity below: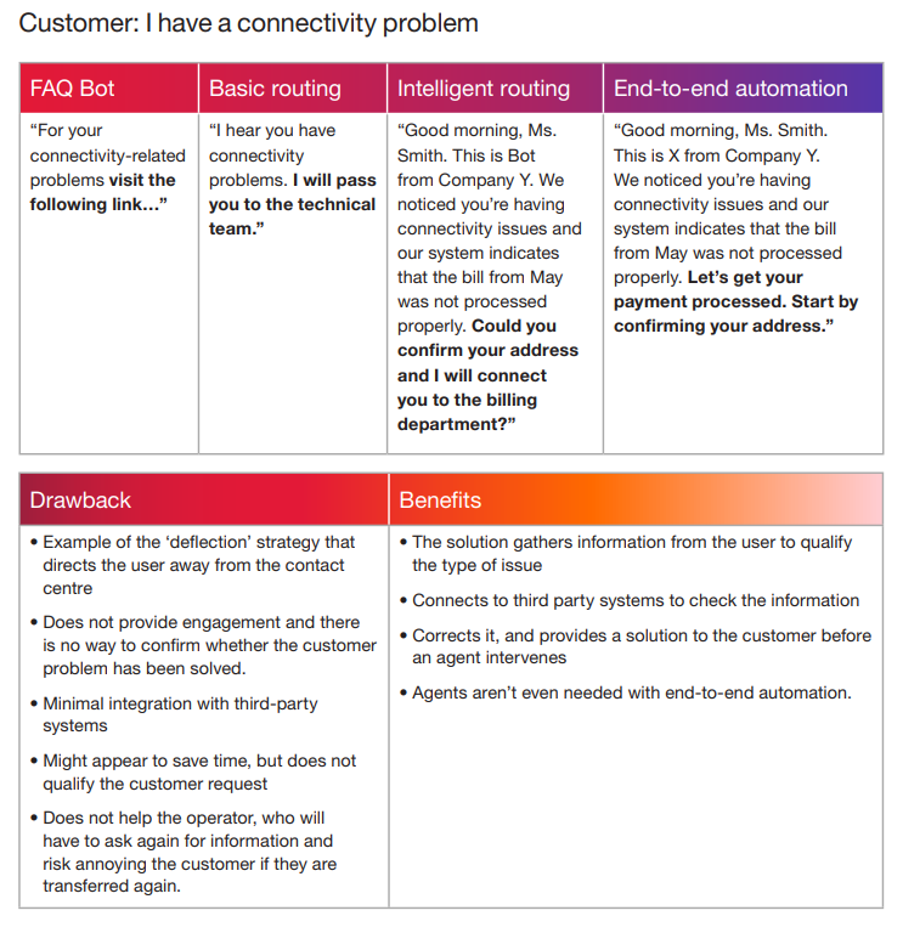 Let Conversational AI work for your organisation
As global costs for products and services increase, managers of contact centres are placing focus on cost efficient operations. With this, cost efficiency turns into programs that are leaning towards 'run the mess for less' or 'manage with what you have' rather than creating value-driven business cases. Ironically, the costs of the inaction when it comes to Conversational AI investment far outweigh the costs of fixing things. And getting started should not be a high cost proposition. Start small and grow is the best way to implement Conversational AI solutions.
Conversational AI can help you decrease costs while you improve the experiences of your customers and your agents. Augmentation of existing staff with virtual agents and agent assist support will shorten agent call times and handle some requests fully (containment rate), without staff involvement. These efficiencies bring down your total cost per call (CPC) dramatically. Using our ROI calculator, we can show companies what to expect in their particular situation. Let's run one simple calculation: If you can reduce staff time spent by 30% and your current CPC is £4, your CPC goes down to £2.80. The ROI of a Conversational AI solution and the impact it has on customer satisfaction will increase proportionally to the complexity of the use case and the maturity of the enterprise. Providing better customer service improves Net Promoter Scores (NPS) – some clients have experienced double digit percentage increases on this metric for both chat and phone channels. And intangible costs, like time saved training because of agent assist and its resulting time saved per call, add up to real savings and sources of both employee and customer satisfaction. By making their customers happier companies can raise CSATs, attract new customers, reduce churn, handle purchase difficulties, sell contextually and grow new revenue through increasing basket size. Just as in our everyday lives, positive, natural conversations lead to positive outcomes for all.
Turning your contact centre from a cost driver to a business driver does require careful planning, but by focusing on digitalising the conversations you have and would like to have with your customers, you can create truly engaging journeys that have tangible impacts across your entire brand experience.
Want to learn more?
For further information please contact:
You can join us for a lively discussion with our panel of speakers who will include experts from CGI, one of our Conversational AI partners, Teneo.AI, and Swisscom who will be sharing their experience of using Conversational AI and how it has helped their business thrive.
On the day, we will look at the current state of the contact centre industry, the big challenges, and future opportunities for companies to enhance their customer experience using Conversational AI.
Find details of the event here:
Differentiate your contact centre using Conversational AI | CGI UK