Enhanced Security, Seamless Experiences, Efficiency, Cost Savings, and Compliance for Contact Centres with Voice ID on Amazon Connect
In this Expert View article, the spotlight is on effective contact center technology migration. With insightful guidance, this piece underscores the essence of meticulous planning in any successful project. Crucial especially in the context of migrating from one Contact Centre technology to another, it emphasizes the need to preserve customer experiences and operational efficiency. It all comes with the guidance and support of Devoteam, an AWS Premier partner.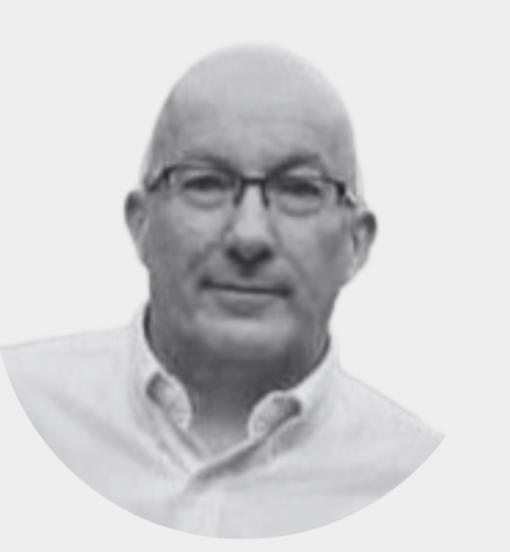 The key to any successful project is planning! Therefore migrating from one Contact Centre technology to another is no different, but crucial to prevent impacting your customer experience if you don't get it right and impacting your colleagues with handling the fall out when things are not working as planned.
When you have decided to replace the current technology, you start by issuing a Request for Information (RFI) followed by a Request for Proposal (RFP) then contracting with a new technology partner.
These first stages are key to acquiring the right technology and partner, but many organisations fail at the first hurdle to provide enough information for the prospective partner to provide the correct level of response and budgetary figures in a timely manner.
Where to start ? It is all in the data!
All too often companies go out to purchase a new contact centre platform but either only provide part of the data required or missing parts of it completely. This impacts the accuracy of the response and usually pushes the timelines out, before the project has started. The following tips will help you to prepare to go out to the market and work with partners to get you the right answer faster and meet your time scales:
Know your contact points
All too often, organisations do not maintain a master list of their contact points such as telephone numbers that they have been used over the years, for marketing purposes and are still out there on the internet for customers or suppliers to us. Therefore take the time to create or update your master inventory list as this will be used by partners to estimate how many contact points needed to be configured, be sure also to indicate what contact points may be retired, which contact journey they point to.
Also over time the business stakeholders who would have requested the contact point may have changed so capture the business owner so you can easily check if the number is to be retained or not, or are there any planned changes.

Know your volumes
Once you have your contact points in a good shape, now you need to collect from your current system or data warehouse the volume of contacts to each contact point by month and year. Are there any contact points that have seasonal fluctuations or are open for extended periods than normal business hours? At the end of this article there is a table to help you collect the data usually required.

Know you staff numbers
Many partners use licences for various components of their solutions, so having a clear indication of:
Number of staff that will be configured to use the new system.
What is the peak number of agents & supervisors that will be logged onto the system at any time.

Skills/Queues
How many different queues do you use in the current contact centre platform?
Contact Flows or Journeys
How many are currently configured and used in the current platform? What journeys are no longer used or expect to be changed? Are the journeys single or multi-channel?
Management Information
What are your management information requirements for real-time and historical data? How many users need access to realtime information, do agents need to see their data and their teams data? Do you need to export realtime and historical data to a Workforce Management platform? Do you need to export contact information to a data warehouse or CRM solution?
Contact Recording
Do you need to record calls for training and/or compliance purposes? If so, do you need to record all contact points (this is where number of contact points & volume comes in handy)? What is your contact recording policy and retention period, as this affects your storage costs.
Integration
The contact centre is not an island, it needs data from other systems to provide a personalised journey to the customer and the interaction data perhaps needs to be passed back to a Customer Relationship Management (CRM) system.
What other platforms does your CC need to integrate too?
Customer Relationship Management
Workforce Management System
Data Warehouse
Do you work with outsourcers? Do you need to send them or receive data from them?
Branding
Branding for voice messaging and prompts will this be provided by an existing professional recording artist or do you plan to leverage the text to speech capability from the new system? As text to speech quality has improved, and businesses can react with messaging quicker and reduce costs, this is being used more effectively.
Locations
How many locations are part of your contact centre operation? This is needed to size the resources required to help deploy any equipment on site and any training that may be required. Are any of the locations – outsourcers that may use your future platform or their own contact centre to service your contacts? Can you break this information down?
Outsource Requirements
If you use outsourcing companies to meet your customer contacts, they may have specific requirements that the new platform may need to meet. Are outbound calls made to the outsource partner, or do you plan that they will leverage your new platform? If you need to transfer calls to the outsource partner, what reporting do you need from the future platform and the outsource partner, if they are using your system what reporting and control do they need to have access to.
Example of a data sheet for your RFI/RFP
This is a sample table of data that vendors require to provide a fairly accurate cost based on the data you have collected from your current platform. The more data the complete cost can be provided.
The annual figure would be the monthly figure times 12, but if you can add the data for each month especially if you have peak periods would provide more insight.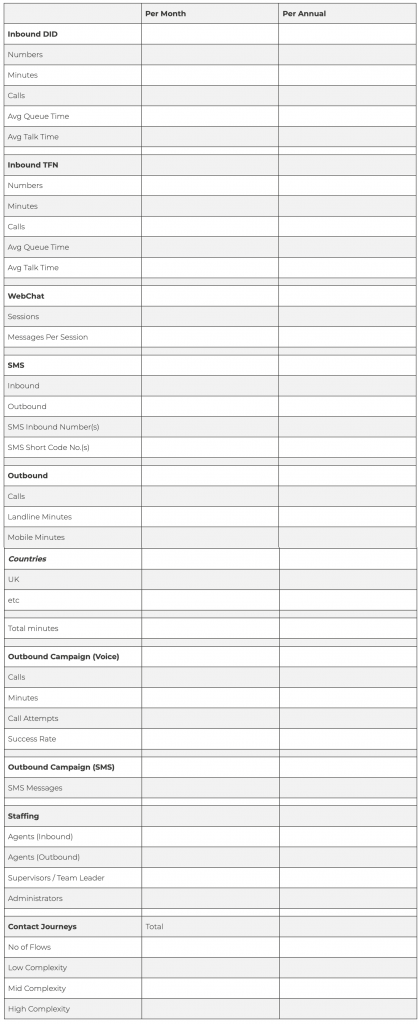 If you need assistance in understanding your contact transformation, we are available to help at various stages, feel free to contact us in the form below. If you feel there is something missing we are always happy to take feedback.
If you would like to know more, you can get in touch with Devoteam here:
Article published with permission from Devoteam. Original source: https://uk.devoteam.com/expert-view/mastering-cx-transformation-a-blueprint-for-seamless-contact-center-migration/?utm_campaign=641b13b446fc19000193b748&utm_content=64d210e46669070001b02066&utm_medium=smarpshare&utm_source=linkedin