Written by Cheryl Allebrand, Managing Consultant, CGI in the UK, Specialising in Conversational AI
With close to two decades of experience in tech and strategy, Cheryl is dedicated to finding solutions that work for organisations, their members and those they support.
From 31 July 2023, retail financial institutions will need to show they are compliant with the Financial Conduct Authority's (FCA) new Consumer Duty principle, meaning they need to show that they are working to ensure that good outcomes for consumers are central to their firm's culture, strategy, and business objectives. The aim of the new regulation is to improve the standard of customer care, and protection and enable consumers to make effective decisions about purchasing financial products that are suitable for them.
Being driven to review so many aspects of the business within tight timescales brings pressure for any organisation. By approaching this as an opportunity to accomplish the often hard to do stuff, companies could be getting closer to becoming a 'fit for the future' organisation. Consumer Duty is much more than a tick box exercise. In fact, it presents an opportunity for firms to enhance their reputations, deliver more meaningful customer engagements, and to deepen the relationships they have with their customers (thousands of whom have been adversely affected by the cost of living crisis).
The new policy is comprised of a Consumer Principle defining overall standards, three cross-cutting rules defining an expected structure of behaviours, and four outcomes that all consumers should expect:
What does this mean in practice?
The extensive FCA regulations require firms to review their products, communications, end-to-end customer journeys, and consider changes in areas including: governance and accountability, management information and reporting, product design, pricing, distribution, servicing, and staff training – all within a challenging implementation timeframe. Upping the level of service based on superior insight and improving how they respond to customers in need of support will be a positive move in the end, helping to strengthen brand loyalty and increase customer satisfaction. Some companies may feel confident that the necessary systems and processes are already more or less in place. Others may require a review of current operations, with gap analysis identifying a timetable for business change, or for larger businesses with legacy systems, a wholesale transformation programme may be needed.
What areas should you be paying attention to?
The new Consumer Duty is comprehensive, and it necessitates an assessment of your customer journey, operations and technology to guarantee that behaviour is in line with the act, and that information is collected and researched to guarantee 'fair outcomes' for the customer at every stage. There are a number of key areas that will require your attention to ensure you are compliant going forward:
Programme delivery – Operating a Consumer Duty programme requires input and oversight across the entire organisation, and beyond. It's a large scale, enterprise-wide change management programme being undertaken in live business operations. We recognise that a project of this size comes with its challenges in terms of governance, resourcing and managing cultural barriers across the business. Trusted to do complex things well across industries, our change management team is on hand ready to ensure your programme runs smoothly.
Customer experience – Fulfilling the requirements of the duty will require a sea change in customer experience and personalisation, while imposing important changes to obligations and behaviours on existing staff and partners. The right technology ensures seamless customer interactions — from the first contact through to enquiry resolution and beyond. Our expertise in providing innovative customer and employee experience solutions such as Conversational AI, CRM, and Collections brings together a set of technologies designed to be fit for the future:

Conversational AI is a form of automation that delivers meaningful customer engagements while supporting staff through change, extending platform capabilities, and enhancing services. Customer and employee experience Conversational AI platforms can act as a central interface delivering on insights across channels. Providing round-the-clock support, it can be dynamically scaled to handle peaks and troughs in demand. Importantly it also enables proactive, outbound support to mitigate risk and help get customers back on track quickly or even help prevent them falling behind in the first place. Systems are updated in real-time, and workflows can be refined to reflect data-driven decisioning. Drawing on databases from across the entire organisation, interactions are personalised for individual users with differing needs and situations. By working across silos, Conversational AI allows processes to be reimagined in ways that speed up resolution and reduce cost to serve. It supports staff up front and behind the scenes, automating repetitive tasks, surfacing relevant information, and providing suggestions for courses of action. This minimises time required of agents to service customers as well as staff training time.

Customer relationship management (CRM) is an essential hub for organising and making sense of valuable customer data and insights that are now needed. Understanding the data that you hold about your customers is key to being able to provide financial services that suit their needs. By supporting customer operations with centralised data and workflows, and adding sales and marketing suites that allow you to test products and gain real insights into customer demand, our CRM solutions team can help you get the best out of a single customer view across your organisation.

Collections – Collections and vulnerability management processes need to be robust and the way you support customers in difficult situations must be even more consistent and auditable. We take a customer-centric approach to collections and recoveries, and our four decades of experience enables us to work collaboratively with you to ensure that all activities are aimed at maximising the efficiency of your operations. Our end-to-end CACS X credit solution and expertise can help maximise operational effectiveness whilst providing best practice processes within the regulatory framework.

Data analytics – The FCA has stated that it will take a data-driven approach to assessments of compliance, and that in turn means that there will be an expectation that the service provider will be able to provide that data to them. This marks a step change in both the need for access to the right data to support decision making and in the regulatory approach to assessment. Our Data Fitness Assessment (DFA) offers organisations the opportunity to create a reliable data infrastructure to meet their data agendas. Based on DAMA principles, our six-point approach accurately evaluates the maturity of data, from data access to how and where data is presented and consumed. When it comes to Consumer Duty, the DFA can evaluate an organisation's existing data landscape and pinpoint areas that need to be modified or transformed. To ensure good customer outcomes, organisations require reliable and trusted data to build precise metrics. Our Insight Hub Accelerator provides assurance that the first layer of data processes is in the best condition possible. This enables businesses to use advanced analytics and build scalable analytics solutions that are governed in a well-structured way. Through the application of predictive models, organisations can proactively manage the risk of poor customer outcomes.
How can we help?
We can match the FCA's requirements with clear operational benefits that will be gained from an investment in digital technology and prescribe how organisations can best accelerate the upgrade from expensive and inefficient legacy systems.
We combine advanced analytics, deep financial services and systems integration expertise, with an industry-leading experience automation practice to deliver the insights, systems and processes you need, to over-deliver on the Consumer Duty requirements while decreasing cost to serve. Now is the time to accelerate your regulatory compliance using the technical and advisory solutions needed to deliver all aspects of the new Consumer Duty.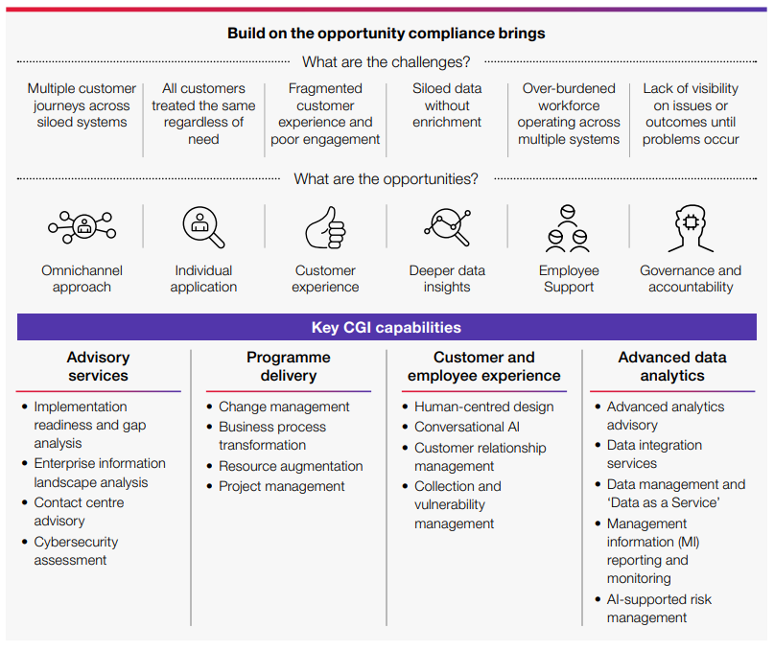 Want to learn more?
For further information please contact:
We recently held a webinar with UK Finance where we discussed how to enable a data-driven approach for better customer insight and customisation, while improving the reporting of outcomes to meet the requirements of the FCA's new Consumer Duty.
You can listen to a replay of this webinar here:Consumer Duty: Data and automation strategies for better outcomes | CGI UK